Barefoot at Broken Head is the only private house in the Byron Shire approved for wedding receptions, located just a short drive from the heart of Byron Bay.
Barefoot at Broken Head hosts the most sophisticated beach and garden weddings in Australia.
For beach ceremonies, the couple walks through the sand dunes to the ceremony site on the pristine surf beach where eucalypts crowd thick over the hills. With not a house in sight, at the end of the single stretch of sand, their guests see the most easterly point of Australia – the iconic Byron Bay Lighthouse.
Garden ceremonies are held 20m from the Honeymoon Suite in a lush, manicured setting.
Following the beach ceremony, the guests stroll back along the winding bush track and through the back gate of the house, revealing the minimalist splendour that is Barefoot at Broken Head.
With large wooden decks descending into lush tropical gardens, imagine sipping cocktails and enjoying delicious canapés under a rainforest canopy while you dance into the evening.
Barefoot at Broken Head provides you with the ultimate beach wedding venue, infrastructure and luxury accommodation all in one.
Our in-house coordination and catering package, the Simple Wedding Plan, provides all food, wait staff, bar staff and coordination by our house manager.
We also welcome acclaimed local company Byron Bay Weddings should their famous services appeal to you.
You purchase your own alcohol and beverages from wherever you wish and have them delivered to the venue for your wedding.
Our wedding package provides the essential items for couples to hold their wedding at Barefoot without the need to hire in any infrastructure. To hold a reception couples rent the whole house for a four-night minimum stay (three nights if all midweek) and pay reception fee that depends on the number of guests.
Catering – Byron Bay Weddings or Barefoot's Simple Wedding Plan
Four-night minimum stay for weekend functions and three-night minimum stay for midweek weddings. Please see availability for tariffs.
For up to 50 guests (not including children under 10 years) we also offer Barefoot's complete in-house catering package, which provides all food, waitstaff, bar staff, and wedding coordination by our house manager Frances starting at $193 per head. We have developed this package in response to couples who want the laid back sophistication of Barefoot, with a casual yet elegant simplicity.
The food is catered by our in-house chefs. Please request menu options for canapés or sit-down receptions with various tiers of choice.
Byron Bay Weddings
& Fig Tree
Byron Bay Weddings was set up in 2006 by chef and owner of The Fig Tree, Che Devlin. Cooking is his thing!
Byron Bay Weddings is a collaboration of the regions most experienced, dynamic and passionate wedding planners, on the day coordinators, service/bar pros, stylists and chefs that have evolved and blended into a premium wedding service company.
Striving to help you create absolutely unforgettable memories, you will enjoy first-class management and execution which ultimately will make your wedding planning easy, stress-free and FUN.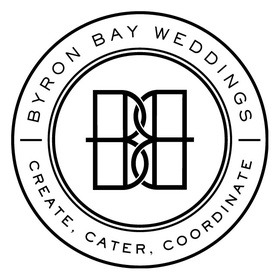 Working exclusively with the region's finest caterer, Fig Tree Restaurant, which offers an abundance of options from tasting menus to share platters, to a la carte or cocktail receptions.
The team of chefs at The Fig Tree source most of their produce from The Fig Tree's own garden or the fields, paddocks, farms and ocean that surround Byron Bay.
Created with Barefoot at Broken Head in mind is FEAST.
With handmade cocktails from their trained bar staff and festival style food made by their team of international chefs, guests can chill with a signature Mojito in one hand and FEAST on a variety of food until their heart's content!
Contact Byron Bay Weddings for a suggested agenda and quote:
Email: enquiries@byronbayweddings.com.au
Website: www.byronbayweddings.com.au
Phone: (02) 6684 7260
Barefoot at Broken Head Weddings – Our Private House in Byron Bay
Plan your dream wedding at Barefoot at Broken Head – the only private house in Byron Bay for weddings and receptions. From the beach ceremony to the catered reception, we offer complete packages to help simplify your wedding plans.
Whether you want to plan a small intimate wedding or a large gathering, we have you covered. Barefoot can host up to 70 guests. Book now to lock in your wedding date. 
Discover the Beauty of Beach Weddings in Byron Bay
An Australian beach wedding provides the most romantic atmosphere and a laid-back vibe that cannot be matched by other locations. Barefoot is at Broken Head, which is just five minutes from Byron Bay. Along with a gorgeous beach setting, you can enjoy the comfort of staying at a luxury beach house in Byron Bay. Barefoot at Broken Head features modern, five-star accommodations surrounded by lush Australian bush.
Start Planning Your Luxury Beach Wedding in Byron Bay
If you want to find boutique wedding venues with ocean views and beachside accommodations, look no further than Barefoot at Broken Head. We serve residents and visitors alike throughout Byron Bay. Trying to find private property for a wedding is not always easy, especially along the coast. In fact, Barefoot at Broken Head is the only private property in Byron Bay approved for weddings. We offer all-inclusive packages with options to suit your specific needs. Work with the top wedding planners in Byron Bay to plan your once-in-a-lifetime event and create lasting memories. Book today!